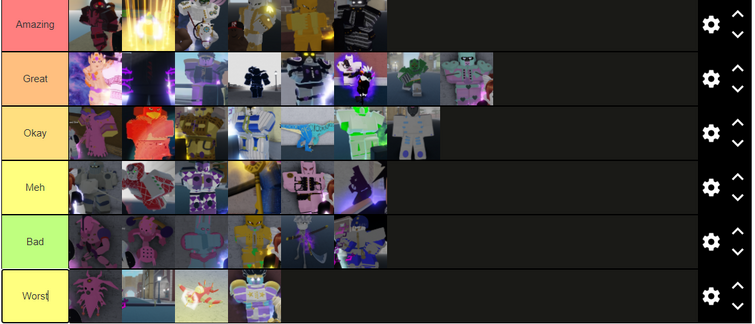 6p in Meh: only combo starter is blockable- you have to reload too.
WS in Amazing: How is taking away a stand and spec any worse than amazing?
Cream above TH: Cream is just TH with shorter cooldowns and larger AoE.
BTD in great: Time your moves right and you can't die.
Ta4 in okay: All but 1 move is blockable or perfect blockable.
KC in meh: There's a 50% chance you don't get comboed off of impale, cause block break or blockable are both options, and sometimes they don't even adapt to you blocking, so it's honestly easy to counter.
SPTW in worst: All but 1 move is perfect blockable. That one move is time stop. Explain to me how this is good?
C-Moon not in amazing: Honestly, it doesn't have good range, low destructive power too. Most of the users are bad, so half the time the combo doesn't land.
SCR in great, not amazing. Conquerors' Will is broken, yes. Guess what else it has, though? That's right, ONE DAMAGING MOVE. You heard me. ONE DAMAGING MOVE. When CW isn't usable- how is this good? All the stand and users do is run until CW is up, but 90% of the time you're faster than them as they don't have the brain cells to use Helping Hand and run.
I can explain any other placements if you reply on one you don't agree with.